About the PraiseToys Ministry:
THE

QUESTION

:
We recently re-named it "Wellspring Praise" but where did the "PraiseToys" name and ministry idea originally come from?
THE

ANSWER

:
A few years ago God seemed to have yelled the name PraiseToys.com at me overtop the loud, high energy praise at a Kim Clement Gathering in Detroit, Michigan.
It abruptly stopped me and sat me right down on my chair. Instantly I was removed from the middle of all that praise energy and found myself sitting down in the front row, amazed & dazed. The loud sound and high energy was muffled as if I had earplugs in. I was alone with God, one-on-one, removed from the frenzy and I knew that I knew – that I really knew – that He just called me to help others to get closer to Him through the power of praise.
Within that single "praise-toys" comment from Him I also heard, and instantly understood, the entire vision and reason for this ministry. A photo is worth a thousand words – but this ONE WORD FROM GOD was worth an unlimited number of words. I really got the message. I had no reason to ask "What? or Why?"
But why "toys" you might ask? It may be due to the fact that I have called my percussion instruments "percussion toys" for many years. But God clearly gave me the PraiseToys.com name – and also told me it is the "joy of toys", not just praise tools and weapons. He also says He wants us to be child-like in our uninhibited approach to loving and praising Him. Makes perfect sense.
- Bill Latocki
THE NEED:
There is a worldwide awareness growing regarding true praise, along with the power and communication it allows. There are hundreds of thousands of Christians, new and old, desiring more of God—more connection with our Father's love.
THE VISION:
PraiseToys.com is a training and equipping center for items and aides to help teach, train and inform about this more intense and intimate level of praise and worship that connects us with God our Father, with Jesus Christ, our Lord and Saviour, and with the power of the Holy Spirit.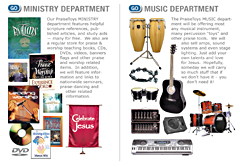 The PraiseToys MINISTRY:
Our ministry department will feature helpful teachings, praise reports, scripture references, published articles, and study aids. In addition, we will feature information and links to nationwide praise-centered events, conferences, praise, soaking, dancing and other related and helpful information.
The PraiseToys STORE:
Our e-commerce department will be offering musical and training resources such as: percussion instruments and drums, musical instruments, praise & worship books, musical and instructional CDs & DVDs, banners, flags, scepters, shofars and other praise related items.
Our God-given vision is to make PraiseToys.com a comprehensive praise and worship site. You are invited to be part of it. Your love, testimonials, financial support and suggestions are greatly appreciated.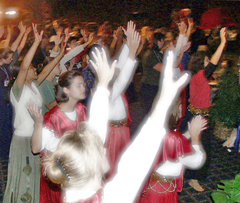 ---
THIS JUST IN…
Jakob Nielsen's Alertbox Summary:
(December 19, 2005)
The Internet is growing at an annualized rate of 18% and now has one billion users. A second billion users will follow in the next ten years.
That's TWO BILLION.
Like this: 2,000,000,000.
So here is the plan: The PraiseToys ministry of PRAISE is available to all of them. Please send in YOUR own personal praise reports and teachings to share with at least a few of these 2 billion so they can have a better understanding of how much God loves them and how He loves to be praised.
Who are we?
PraiseToys is operated by Bill & Kathy Latocki. Their backgrounds and beliefs are listed below: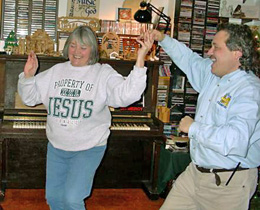 First – We are a family that includes YOU. You are a serious part of our team by joining in the family of serious praisers. YOU are a major help by sending in your praise reports, teachings, rants and ravings, opinions, reviews, whatever! So a deep thanks from us for your input and for making the PraiseToys ministy more effective.

KATHY'S STORY:
Bill and I both became Christians in April of 1980. Right from the beginning, Jesus has been teaching us about praise – it's value and power as a spiritual weapon against our enemy.
We have seen over the years that God is faithful and worthy of all our praise. He has kept us through many trials, healed us, met our needs, delivered us from the memory of our past sins and traumas, and is continuing to make us holy.
We have learned to stand on the Word, hold our peace, humble ourselves under the mighty hand of God, abide in Jesus, pray in faith for the sick, keep a watch over our lips, resist the enemy, discern religion and legalism, bring every thought into captivity, flow in the annointing, believe we receive when we pray, connect daily with God, control our appetites, walk in the authority of who we are in Christ, trust that He gives His angels charge over us and that He is directing our path.
All these things are accomplished through faith in the promises of the Word of God and accompanied by praise for the Most Holy One, the True and Living God, our Father, our Redeemer, our Friend. We stand on the sure foundation of Jesus Christ and voice our praises to Him daily. We enter His gates with thanksgiving and His courts with praise. Sincere, from-the-heart praise takes us into God's presence where we are filled with joy which gives us strength to follow Him. – Kathy Latocki

BILL'S STORY:
Kathy and I were drawn to praise early in our baby Christian lives. It was bound to happen because of my background of having a deep love for music and always being involved in bands. That caused me to pay close attention to the music ministries of churches and Christian events I attended.
At the second church we ever belonged to, after a few months of membership, I boldly and bravely brought my bag of percussion toys to a Sunday evening service. Something very good happened. It was not long before we pieced together a make-shift drum set and within a few weeks the Sunday night services took off in attendance and a small, but real, REVIVAL had started!!! The evening service was gaining on and then passing the Sunday morning service attendance numbers! The pastors quickly decided to add the drums to the morning service and that praise & worship time developed into a much stronger, longer, more spiritual experience for all the congregation. I saw what God preferred. We turned it up – spiritually and with extra decibels.
I did not know it then, but learned a few years later that I was being used by God and had a prophetic calling on my life. At the time I thought I was just pounding away and having fun while the congregation seemed to like it and happily joined along.
Then Kathy and I moved on to a young new prophetic church and I ended up in the music ministry. When my drums came into the service, combined with the entire music ministry team, it was like God was using the drums to throw a match into a can of gas. Seriously. It was just about that clear. He really loved the extended, free-flowing, innovative praise He was receiving and therefore much more was happening in the meetings. God showed up. The Holy Spirit moved on us. Many were delivered, healed, blessed and motivated. And a few cymbals and drum sticks got broken.
It has been that way ever since. For over twenty five years at churches, conferences and conventions I have noticed the music ministries ushering in powerful results with this form of higher praise and worship. It included all ages of people, too. I noticed God showing up and showing off more in the meetings where we continually lifted Him up with anointed and spontaneous praise – praise that was done well, sincerely, and deep from the heart of Jesus lovers.
Recently God made it very clear to Kathy and I to help teach others about the power of using praise to get into His presence and receive answers to our prayers and needs. He has told us to help Him prepare others for the tsunami of new believers that are soon coming into the Kingdom of God.
Years ago He led us to do our own praise sessions every morning before we started our day. He has opened doors for me to play drums or percussion for multiple ministries, churches and conferences. He has created divine connections and praise opportunities for me that are amazing. I have been extremely blessed by who I have been able to minister for and with in praise and worship.
God is so good. He has truly given me the desires of my heart… from four awesome kids, a precious wife and ministry partner, to plenty of drums and percussion toys and places and events to use them for His glory.
Now He clearly gave us the PraiseToys ministry. We are not looking back.
- Bill Latocki
Bill is also a member of the Detroit Chapter of Psalm Drummers International Kathy and Bill also have a local praise gathering ministry called Wellspring Praise Center


About our Webmaster

Christian Metts:
What a blessing Christian is to us! His understanding of web site design, construction, naviagtion, blog technologies, and a bunch of other helpful stuff keeps PraiseToys looking great and operationable. You click. It works. All thanks to Christian.
We have known Christian for many years – going way back to when he was a kid computer whiz. He has been an important vendor for Bill's ad agency by servicing us with his many talents for the last several years. Christian and his wife, Ann, have recently been blessed with their first child, Tabitha (born Dec. 1, 2005).

New familly member:
Tabitha Elaine Metts!
Christian Metts can be reached at:
xian at mintchaos dot com